GUMAR s.c.
Kokotów 285
32-002 Węgrzce Wielkie
e-mail:
biuro@gumar.sc
tel.: +48 12 251 01 20
fax: +48 12 251 01 22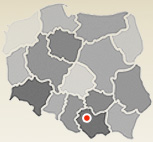 We welcome you if your requirements are too high for other manufacturers.
GUMAR was established in April 1979 as a small craftsman shop employing three persons besides the owner. Today the company has 30 employees, still however belongs to the Guild. Our company manufactures rubber and rubber-metal details for automotive, agricultural machinery, mining machinery, and other industries.
more